Drawings of Angel Wings
Looking for drawings of angel wings? Here you will find several angel wing drawings for your personal enjoyment. You can use
them as inspiration to make your own graphics.
Why are angels depicted as having wings?
In the Bible, angels are not described as winged beings. I think that artists gave angels their wings as a symbol of divinity and to indicate that angels were not bound by earthly laws. After all, angels can come and go, and appear and vanish at will.
Furthermore, of all the animals of the earth, birds seem to be the freest. So it seems fit that angels sport feathered wings.
Interestingly, angels are not the only supernatural beings portrayed as having wings. You will find gods and goddesses, fallen angels and demons, and even fictional heroes and villains who display wings. The Ancient Egyptians had the goddess Isis and the Ancient Greeks had the god Hermes. Both deities had wings. Go to this page to learn more about winged creatures.


Angel Wings Symbolize:
Airiness
Angelic inspiration
Angelic protection
Dreams and desires
Expansion
Freedom
Goodness
The ability to soar
Willingness to break free
Philosophy will clip an angel's wings. ~ John Keats
Angels Wings Drawings
The following gifts and pictures showcase different types of angel wings. These items are brought to you in affiliation with Zazzle.com.


Gifts Inspired by Drawings of Angel Wings
There are so many angel-inspired articles that you will have no trouble finding the perfect angel gift. These are just a tiny sample:


Abstract drawing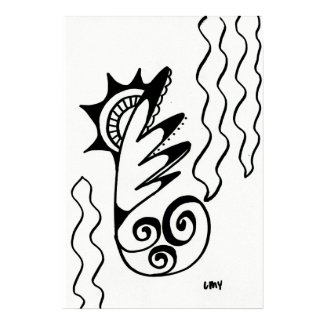 Angel Wing
by
candyheartcreations
Join Zazzle's
artwork affiliate program
Traditional Wings - Design on T-Shirt
Angel
by
moody_designs
More
Angel T-Shirts
More Angel Wings - T-shirt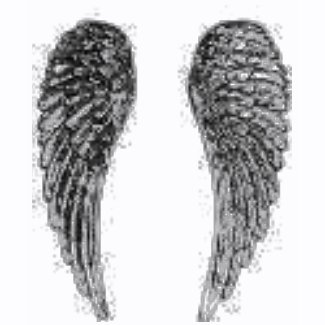 Angel.
by
koomoomees
More
Angel T-Shirts
More Angel Wing Drawings
The pictures below are brought to you in affiliation with Art.com. They make great gifts for lovers of all things angel.


The following is a very abstract type of wing:


Another "abstract angel wing":
Another take on angelic wings:
Thorns and stings
And those such things
Just make stronger
Our angel wings.

~ Terri Guillemets
Angel Wing Quotes
"How shall we tell an angel from another guest?
How, from the common worldly herd, One of the blest?
Hint of suppressed halo, rustle of hidden wings,
wafture of heavenly frankincense,-
Which is these things?
The old Sphinx smile so subtly:
'I give no golden rule,
Yet I would warn thee, World:
Treat well whom thou call'st fool'..."
~ Gertrude Hall


I'm just looking for an angel with a broken wing. ~ Jimmy Page


Every time you hear a bell ring, an angel gets its wings. ~ Author Unknown


---
---
I hope you enjoyed the drawings of angel wings shown here.
For more on angels please visit:


Other Popular Angel Pages

Angel Drawing Gallery

Angels Wings

Drawings of Guardian Angels

Guardian Angel Graphics


Leave Drawings of Angel Wings and return to Angel Wings

Return to the Home Page of Angel Art and Gifts