Crying Angels
Below you will find a small collection of crying angels. Why would angels cry? Angels are filled with compassion and kindness. They feel deeply and share our grief and sorrows. It is no wonder that weeping angels have inspired artists to depict the profound empathy of our divine guides through painting, sculptures and other works.


Ever felt an angel's breath in the gentle breeze? A teardrop in the falling rain? Hear a whisper amongst the rustle of leaves? Or been kissed by a lone snowflake? Nature is an angel's favorite hiding place. ~ Carrie Latet
Pictures of Weeping Angels
The following images are brought to you in association with zazzle.com. Needless to say, these items make wonderful angel gifts.
A Crying Angel
Angel Tears Poster
by
katerinaart
View more
Angel Posters
A gathering of angels can enlighten the whole world. ~ Author Unknown
Sad Angel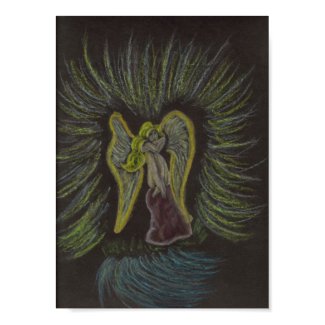 CRYING-ANGEL
by
rainbow4550
View other
Painting Posters
Angels always try to paint a rosy picture.
Angels and ministers of grace defend us.
~ William Shakespeare
Another Sad Angel
Angel
by
carfour
See more
Angel Posters
You'll meet more angels on a winding path than on a straight one.
~ Daisey Verlaef
Quotes about angels always inspire me. I hope you enjoy the following angel quotations.


God not only sends special angels into our lives, but sometimes He even sends them back again if we forget to take notes the first time! ~ Eileen Elias Freeman


An Angel Blessing
Angels around us, angels beside us, angels within us.
Angels are watching over you
when times are good or stressed.
Their wings wrap gently around you,
Whispering you are loved and blessed.
~ Author Unknown


To see an angel, you must see another's soul.
To feel an angel, you must touch another's heart.
To hear an angel, you must listen to both.
~ Unknown


Dear Lord, though I be changed to senseless clay,
And serve the Potter as he turn his wheel,
I thank Thee for the gracious gift of tears!
~ T. B. Aldrich


'Cause we are each other's angels
And we meet when it is time
We keep each other going
And we show each other signs. ~ Chuck Brodsky


Tears such as angels weep.~ John Milton


Friends are angels who lift our feet when our own wings have trouble remembering how to fly. ~ Auhtor Unknown


Related Pages
More Pictures of Angels Crying
Angels Crying - More Images
Sad Angels
Leave Crying Angels and return to Angel Pictures
Return to the Home Page of Angel Art and Gifts