Angel Graphics
Angel graphics express the essence of angels. With only a few strokes, artists manage to convey the nature of these winged beings. A graphic is indeed the visual representation of an abstract idea or concept.
You will find different types of angel-themed graphics: from the elaborate to the simple, and from the deeply religious to the secular. You will also find examples of guardian angel graphics, images of fairies and other magical creatures.


Below are some examples of angelic graphics.


Depictions of angels
Generally, angels are depicted in specific stances and/or performing certain activities associated with the angelic hosts. For instance, angels are often depicted in repose. Sometimes, they are shown flying. Other times, angels are praying or singing.


Angels as Messengers
Angels are divine messengers and they are often sent to announce or herald an important message or event. Usually, angels are depicted as carrying a scroll or a trumpet, like in the image shown below.


Blue Robed Angel Trumpeting
by
White_Wedding
Learn how and
where to sell paintings online
with Zazzle.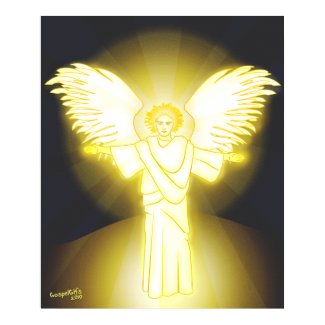 Angel of the Lord
by
Pazzoom
Large format printing
by Zazzle
Prayerful Angels
Angels are also intercessors. And they are believed to always be immersed in the act of prayer. They pray for us and/or in our behalf. Images showing angels praying are quite common.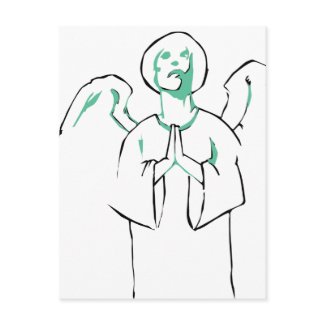 Praying Angel Postcard
by
Journeyman
Design
Full color post cards
at zazzle
Praise and Joy
Angels are often associated with joy, praise and thanksgiving. And what a better way to convey these things than to depict an angel singing and praising God?
You will find many graphics of angel choirs, singing angels or angels playing a musical instrument. Angels know the real meaning of making "joyful noise".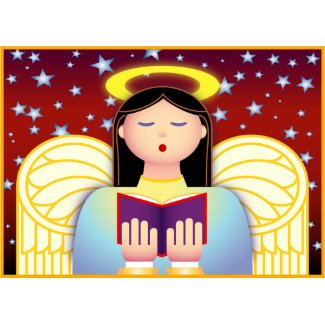 Angel Caroler
by
PaulHonatke
Join Zazzle.com's
greeting card affiliate program
Angel Quotations

Take heed that ye
despise not one of these little ones;
for I say unto you,
That in heaven
their angels do always behold
the face of my Father
which is in heaven.
~ Matthew 18:10 KJV



The angels stand between us and God,
but they are translucent,
even transparent,
and they beckon us
to penetrate their luminosity.
~ Peter Wilson


I hope you enjoyed all the graphics of angels presented here. For more angel images, please visit the links at the bottom of the page.
More Angel-Inspired Graphics
Guardian-Angel Graphics
Angel Drawings
Cartoon Angel Gallery
Leave Angel Graphics and return to Angel Art
Return to the Home Page of Angel Art and Gifts