Cartoon Angels
The cartoon angels shown here are adorable. They're cute, funny and full of innocence. I'm sure they will put a smile on your face. So if you need a bit of sunshine, take a look at the angel cartoon gallery presented below.


Fun Trivia
What is a cartoon? According to wikipedia.org:
The term has evolved over time. The original meaning was in fine art, where cartoon meant a preparatory drawing for a piece of art, such as a painting or tapestry. The modern meaning refers to both humorous illustrations in print and animated films.
Lovely Angels
The following gift ideas inspired by cartoon angels are brought to you in affiliation with Zazzle.com.


Happy Angels
Angels
by
prawny_christian
Sell artwork
online with zazzle.
The golden moments in the stream of life rush past us and we see nothing but sand; the angels come to visit us, and we only know them when they are gone. ~ George Elliot
Cute Little Angel
GuardianAngels No 01
by
lovelyfriends
View more
Fairy Posters
If I can put one touch of rosy sunset into the life of any man or woman, I shall feel that I have worked with God. ~ Gilbert Keith Chesterton
Inspirational Poster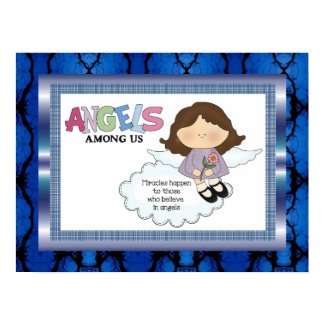 Angels Among Us Poster
by
DoodlesGifts
sell your art prints online
with Zazzle.
Pay attention to your dreams - God's angels often speak directly to our hearts when we are asleep. ~ From The Angels' Little Instruction Book by Eileen Elias Freeman
A Christmas Angel
Christmas Angel
by
prawny_christian
make money as an artist
using Zazzle.
When babies look beyond you and giggle, maybe they're seeing angels. ~ From The Angels' Little Instruction Book by Eileen Elias Freeman
Angel Quotes
Outside the open window
The morning air is all awash with angels.
~ Richard Purdy Wilbur

The guardian angels of life sometimes fly so high as to be beyond our sight, but they are always looking down upon us.
~ Jean Paul Richter





A babe in the house is a well-spring of pleasure, a messenger of peace and love, a resting place for innocence on earth, a link between angels and men.
~ Martin Fraquhar Tupper





Love came down at Christmas; love all lovely, love divine; love was born at Christmas, stars and angels gave the sign.
~ Christina G. Rossetti




For more on cartoon-angels and other related angel topics, please visit:
Leave Cartoon Angels and return to Angel Art
Return to the Home Page of Angel Art and Gifts