Baby Angel Images
I hope that the baby angel images shown here bring a little bit of joy into your life. They are not only heavenly, but sweet and loving. Let the angels open your heart to the wonders of God's universe.


An angel has no memory. ~ Terry Southern
Baby Angel Pictures
Angels are always around us. Sometimes they make their presence known through a whisper, the perfume of a beautiful flower, an unforgettable sunset... sometimes you get a warm feeling, a knowing that someone is guiding you... Regardless of how they announce their presence, they are always around.
The following baby angel images are brought to you in affiliation with Zazzle.com. Needless to say, they make wonderful angel gifts.


A Lovely Cherub
Beauty, the eternal Spouse of the Wisdom of God and Angel of his Presence thru' all creation. ~ Robert Bridges
Sweet Dreams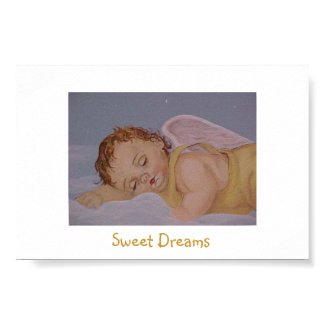 Baby Angel Sweet Dreams Print
by
Lesleysloft
Browse more
Angel Posters
Home - that blessed word, which opens to the human heart the most perfect glimpse of Heaven, and helps to carry it thither, as on an angel's wings. ~ Lydia M. Child
Drawing of Baby Angel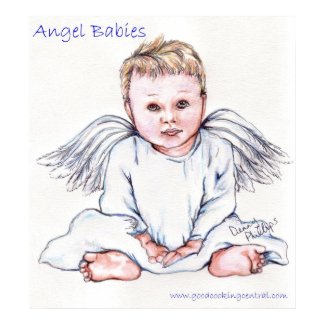 Angel Babies Poster
by
dennyph
See more
Angel Posters
I never wanted a Guardian Angel. I didn't ask for one. One was assigned to me. ~ Mercedes McCambridge
Sweet Baby Angel Picture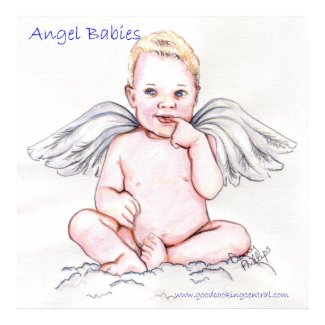 Angel Baby Poster 2
by
dennyph
Begin
selling my posters
with Zazzle.
Baby and Angel Quotes
Quotes and thoughts about babies and angels...


A baby is born with a need to be loved - and never outgrows it.~ Frank Howard Clark


A baby is God's opinion that life should go on. ~ Carl Sandburg


A new baby is like the beginning of all things - wonder, hope, a dream of possibilities. ~ Eda J. Le Shan


All the evidence that we have indicates that it is reasonable to assume in practically every human being, and certainly in almost every newborn baby, that there is an active will toward health, an impulse towards growth, or towards the actualization. ~ Abraham Maslow


And when our baby stirs and struggles to be born it compels humility: what we began is now its own. ~ Margaret Mead


May you always have an angel by your side. ~ angel-art-and-gifts.com


Angels are not merely forms of extraterrestrial intelligence. They are forms of extra-cosmic intelligence. ~ Mortimer J. Adler


O' What may man within him hide, though angel on the outward side! ~ William Shakespeare


I believe in angels, the kind that heaven sends. I am surrounded by angels...but I call them friends. ~ Author Unknown


The angels always believe in you. ~ angel-art-and-gifts.com


A mother is an angel to her child. ~ angel-art-and-gifts.com


Do you want to see more baby angel images? Check out the following pages:
~~~~~
Leave Baby Angel Images and return to Angel Pictures
Return to the Home Page of Angel Art and Gifts