Angel Cartoon Gift Ideas
Enjoy this angel cartoon collection. I hope it cheers your day at least a little bit. I love all things angel, and cartoon angels always make me smile. I guess they make my inner child happy.
Angels are a very popular theme in different forms of art. Indeed, angels are the central theme of many paintings, sculptures, films and literary works. It is no wonder that cartoonists also draw inspiration from angels.
You will find a wide range of "angelic" cartoons: from the humorous to the inspirational, and from the irreverent to the sublime.


My delight and thy delight
Walking, like two angels white,
In the gardens of the night.
~ Robert Bridges
Cartoon Angel Collection
The following items are brought to you in affiliation with Zazzle.com.


I Give You My Angel Heart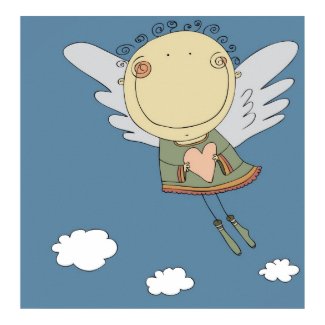 Angel Poster
by
antisana
See more
Art Posters
Whatever you put your attention on in this life will increase in your life. As you put your attention on angels, they will begin increasingly to make their presence known to you. ~ Denise Linn


~~~~~~~
Cute Little Angel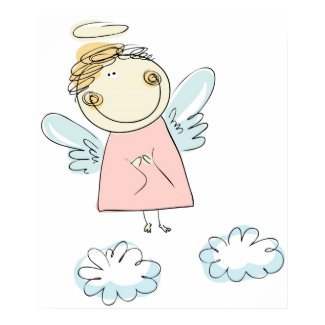 Angel poster
by
antisana
Browse more
Art Posters
If instead of a jewel, or even a flower, we could cast the gift of a lovely thought into the heart of another, that would be giving as the angels must give. ~ Author Unknown


~~~~~~~
Little Angels in Heaven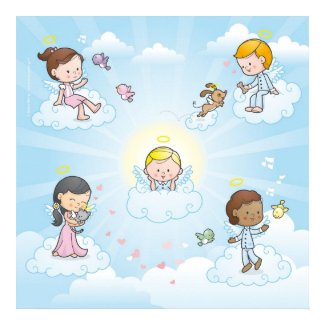 Little Angel
by
Macy75
Browse other
Macy wong Posters
Angels assist us in connecting with a powerful yet gentle force, which encourages us to live life to its fullest. ~ Denise Linn


Angel In His Cloud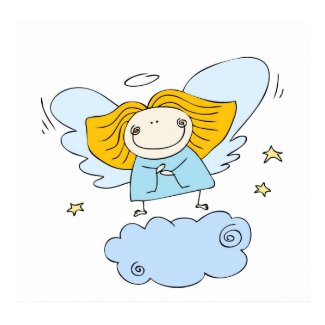 Angel poster
by
antisana
View more
Art Posters
The angel of the LORD encampeth round aboutthem that fear him, and delivereth them. ~ Psalms 34:7 KJV


Angel Quotes and other Spiritual Thoughts
Hope is a waking dream. ~ Aristotle
Angels represent God's personal care for each one of us. ~ Andrew Greeley
O welcome, pure-eyed Faith, white-handed Hope,
Thou hovering angel, girt with golden wings!
~ John Milton, Comus
Wherever you go, God is already there. ~ From Touched by an Angel
Spring bursts today,
For Christ is risen and all the earth's at play.
Sing, creatures, sing,
Angels and men and birds, and everything …
~ Christina G. Rossetti


Enjoyed these cute angel cartoon selection? For more on angels, here are more...
Related Pages

More Cartoon Angels

Another Cartoon Angel Collection

Guardian Angel Graphics


Leave Angel Cartoon Gallery and return to Angel Art

Return to the Home Page of Angel Art and Gifts