Angel and Baby Pictures
These angel and baby pictures will warm your heart.
I have always believed that angels are watching over us. I also believe that angels take extra care with babies and children.
And I think that babies are acutely aware of the presence of angels. You may have heard stories about children telling about their experiences with their divine protectors. Indeed, such stories abound.
So if you have a baby or small child, know that they're never alone.


And suddenly there was with the angel a multitude of the heavenly host praising God, and saying, "Glory to God in the highest, and on earth peace, good will toward men." ~ Luke 2:10-14
Angel & Baby Pictures
Enjoy these sweet images of angels and babies. They give us, I think, a glimpse of heavenly joy and tenderness. The following pictures are brought to you in affiliation with Art.com.


A Poignant Picture of Angel Carrying a Child
If one looks closely enough,
one can see angels in every piece of art. ~ Terri Guillemets
Two Angel Watching Over the Madonna and Baby
Angels fill our days with love and light,
and watch over us as we sleep at night. ~ Author Unknown
Angels Praying over Baby
Good news from heaven the angels bring,
Glad tidings to the earth they sing:
To us this day a child is given,
To crown us with the joy of heaven. ~ Martin Luther
Items Inspired by Angels and Babies
The following articles are brought to you in affiliation with Zazzle.com. They make great gift ideas for people who love all things angel.


Angel with Baby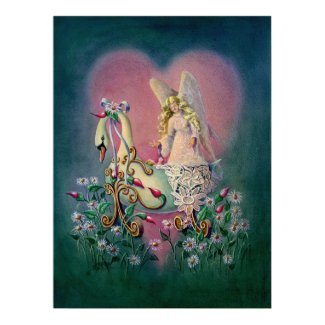 GUARDIAN ANGEL & BABY by SHARON SHARPE
by
sharonsharpe
Browse other
Angel Posters
Christmas Ornament
Guardian Angel
Angelic Quotes for Divine Inspiration
Angels deliver Fate to our doorstep - and anywhere else it is needed. ~ Jessi Lane Adams
Every breath of air and ray of light and heat, every beautiful prospect, is, as it were, the skirts of their garments, the waving robes of those whose faces see God. ~ John Henry Newman (talking about angels)
How do the angels get to sleep when the devil leaves the porch light on? ~ Tom Waits
Angels travel at the speed of love. ~ Author Unknown
Angels can fly directly into the heart of the matter. ~ Author Unknown
We can be angels and help each other. ~ angel-art-and-gifts.com
Angels... the purest love, the purest light... they make everything right. ~ angel-art-and-gifts.com




~~~
I hope you enjoyed the angel and baby pictures shown here. For more angel pictures, please visit the following pages:


Leave Angel and Baby and return to Angel Pictures
Return to the Home Page of Angel Art and Gifts